Let's face it: employees are under more pressure than ever before thanks to modern life's hectic pace. It's no surprise that according to CareerBuilder, 61% of employees reported feelings of burnout at work. The most effective way to combat this fatigue is through implementation of employee health and wellness programs.
Employee burnout impacts all industries– costing employers money in lost productivity, low engagement, increased errors and more safety incidents. This is the reason why so many companies are rushing to increase their health and wellness benefits. In fact, 60% of organizations offer wellness programs—and 53% want to.
Today, the definition of wellness and health has gone far beyond physical health. The talk of overall workplace health and wellness started to garner strength in recent years and will continue on an upward trend in the years to come. 
You can expect to see an increase in the number of companies that adopt wellness programs that focus on mental, emotional, financial, intellectual, social, and spiritual wellness. In this article, we identified 10 office health and wellness trends that will in many ways fundamentally change our work lives, each and every day.
1. Optimizing Your Office Break Room
In the modern workplace, it's crucial to build an inspiring, supportive atmosphere. An office break room should give employees a place to escape to when stress gets the best of them.
Office break rooms can serve numerous functions and should be customized to meet the unique needs of employees. They can serve as a designated area employees can escape to when feeling the pressure of a fast-paced environment—or to simply take some quiet time when they're not feeling well. 
Additionally, by providing your employees with a way to turn off their minds for a few minutes, you'll give them the opportunity to de-stress, refresh their mental state, and come back to work ready to give it their all. 
Sometimes, employees just need a safe area to unwind, recharge and get the extra boost of energy they need. This can increase workplace productivity, performance and job satisfaction.
2. Making Healthy Snacks Available In The Office
When those mid-afternoon hunger pangs hit at work, employees tend to head straight to the vending machine or munch on junk foods, leading to some empty calories and a sugar crash. 
So another health and wellness trend today is making healthy snacks easily available for your employees. By stocking up on these healthy snacks, you can promote healthy eating, make healthier snack choices, and get that much-needed energy boost your employees need.
Essentially, healthy snacks can keep them feeling good so they're better able to focus on the tasks at hand. You are nourishing their bodies with foods that empower them to complete their workday goals!
Read more: Healthy Office Snacks: The Ultimate Guide
3. Fitness Challenges And Contests
Instead of sporadically mentioning the availability of a wellness program, actively promote a culture of well-being and health through challenges and competition.
One way to put the competitive nature of employees to healthier use is to channel it into workplace competitions. To combine a team-building exercise with the goal of having a healthy and fit organization, you can run a fitness challenge such as bike-to-work challenge, a team obstacle course, charity runs, office marathons, or any contests that incorporate exercise.
These competitions are great ways to get employees to rally together, bond, and to encourage them to get more excited about exercise as well. Most offices offer a monetary reward for the winners and runners up in order to really get everyone to participate.
4. Health Coaching and Therapy
Another big trend proven to enhance physical and mental performance is on-site, face-to-face wellness coaching, and therapy. Adding an on-site health coach can be life-changing for an individual and revolutionary for improving the performance of your workforce.
So bring in nutritionists to speak to employees during lunch, organize after-work healthy cooking classes for the office or communicate healthy lifestyle tips. Or you can invest in an on-site behavioral health specialist such as a health coach, health educator, or registered nurse to discuss chronic disease risk factors such as obesity, stress, poor diet, high blood pressure, etc.
Health coaches can help people to make sustainable and realistic lifestyle choices in the workplace by facilitating behavior change and by coaching the whole person, not just the work person. Wouldn't it be wonderful if your company could be among those to provide this great workplace benefit?
5. Paid Fitness Memberships
Rewards, incentives, and benefits are great techniques to increase motivation in the workplace. These techniques can also promote health and wellness by providing benefits such as a gym, spa, or yoga membership. 
Amenities such as an on-site gym give employees the opportunity to exercise together, creating a strong work environment. Offering group classes that help educate workers on the benefits of exercise and diet before or after work gives them an incentive to be at work as well as enjoy it.
Big companies such as Google offer on-site gyms while others, like Microsoft, provide funding for their employees to attend full-service gyms. Physical wellness correlates with productivity, and offering benefits such as fitness memberships will result in employee retention.
Error: Contact form not found.
6. Vaccination Programs
Among all the health and wellness trends, primary care has become indispensable in the big picture. More workplaces are bringing in on-site flu, measles, pneumonia, shingles, and other vaccinations to encourage employees to get inoculated.
Such programs ensure productivity and help employees stay healthy at no additional cost to them. These programs have proven really effective at improving rates of employee absenteeism because of illness. 
7. Switching To Ergonomic Workstation
More and more companies are switching to ergonomic furniture that is specifically designed for efficiency and comfort in the working environment. Differing from traditional office furniture, ergonomic chairs ensure the user's body is kept in a safe and upright position to reduce stress on the spine, neck, and hips.
Another growing trend in ergonomics, and fast becoming compulsory in some offices is the sit-stand desk, which is designed to get staff up and moving more. 
Other ergonomic solutions include keyboards that can help increase typing speeds by reducing repetitive reaching and stretching, and pivotal monitors that allow employees to focus on their screens for longer periods of time, by reducing eye strains and headaches.
All of these solutions ensure employee safety by reducing the risk of injury, while also protecting and promoting their well-being. Overall, by empowering employees with the highest quality office solutions, they achieve greater productivity and quality of work.
8. Bringing The Outdoors In
According to a study, when we work in green-certified offices, we get a 26% boost in cognition and 30% fewer sickness-related absences. Plus, respondents reported a 6% rise in sleep quality. 
 After introducing more plants and green spaces in the office, many employees in the study had an increase in engagement, concentration levels and felt that the air quality had improved. Some plants such as Parlor Palm and Flowering Peace Lily are popular in offices for both their unique looks and air-cleaning abilities.
On that note, it's not surprising that we're seeing more modern offices today with biophilic design such as rooftop gardens, outdoor meeting spaces, green walls, and even jungle-like garden spaces. Perhaps there's something to be said about bringing the great outdoors in. Especially if it improves employee health and wellness—and keeps them happy and engaged in the workplace.
9. Holistic Wellness Programs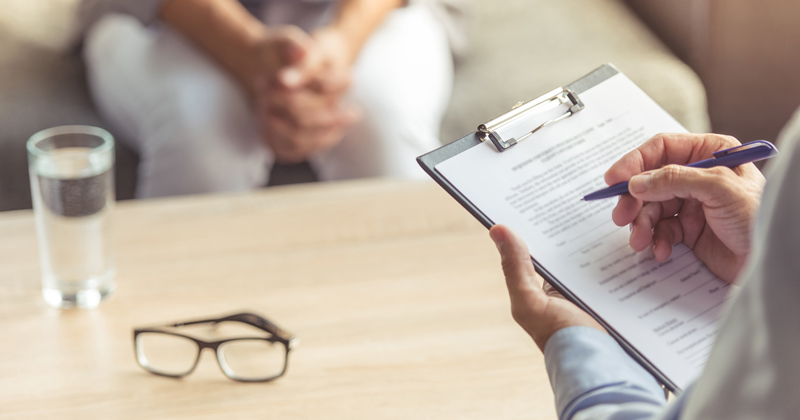 Health and wellness programs often focus heavily on physical health. Often, however, mental health plays a much larger role in employees' overall health. 
That's why mental health in the workplace is now being addressed more than ever. In fact, mental health disorders are among the most burdensome health concerns in the United States. 44.7 million people reported any mental illness in 2016. Also, 71% of adults reported at least one symptom of stress, such as a headache or feeling overwhelmed or anxious.
Reducing workplace stress promotes a strong company culture, reduces sick days, and boosts talent acquisition and retention. Indeed, by supporting employees' mental well-being through workplace wellness programs, benefits are felt across the organization:
That's why these holistic wellness programs are, therefore, becoming a growing trend. They may improve employee engagement, reduce absenteeism, increase productivity and growth, and even raise employee morale. 
10. Financial Wellness Programs
According to an employee financial wellness survey, 53% of employees are stressed about their finances. This means that money worries can be one of the biggest causes of stress. Financial stress can cause distractions at work and absences due to health issues.
Financial worries not only keep employees up at night, but the emotional impact spills over into the workplace, too. Employees distracted by financial problems also create significant costs for employers in productivity and work errors.
That's why it's not surprising that financial wellness programs are now the third most popular offering by companies (84%), behind physical well-being programs (95%) and emotional health programs (87%).  An effective financial wellness program should encourage budgeting, emergency savings, debt elimination, and retirement planning.
Summary
Ideas about well-being are changing in many areas of the world. People are less cynical and skeptical about how things such as wellness programs can impact general well-being, and there is a growing demand for health and wellness support from employers. 
As more companies invest in wellness programs, evidence continues to point to their effectiveness. This includes corporate paid fitness memberships, health coaching, and even financial wellness programs. 
At the end of the day, the level of employee participation measures the success of any wellness program. Every manager should be aware of the signs of employee burnout so that they can take actionable steps to help employees. 
By offering comprehensive wellness programs that entail physical, mental and financial health, your company can create an environment that provides not only a happier and healthier workforce but also a nice ROI.
---
Make sure to share this article with anyone you think could use it!
When you find yourself in need of wine, coffee, kombucha, tea, beer, or snacks for your office or event, shoot us a message!
This article was brought to you by Office Libations, your San Francisco Bay Area office coffee, keg delivery, and snack service. Delivering top local brands and kegs of cold brew coffee, kombucha, beer, and wine.
https://www.officelibations.com/wp-content/uploads/2019/09/office_health_and_wellness_trends_office_libations.jpg
1374
1832
Office Libations
https://www.officelibations.com/wp-content/uploads/2023/06/logo.png
Office Libations
2019-09-24 03:00:43
2022-07-21 16:26:40
10 Office Health And Wellness Programs For 2020